Contents

Home Page
Johan
More Johan
Johan: Portraits In B&W
Johan: a Vignette
Sonya
Worf
Elka
Malcolm
Fun in the Snow
Winter Wonderland
Kin
Camping
Virtual Dog Show
Look How We've Grown
Coats & Colors
PuppyhoodToMotherhood
More Puppy Photos
Pup Nursing Bottle
Bath Time
Contact Us
S&H
Friends
GSD Ceramic Figurines
Reciprocal URLs
Our Other "Children"

2 Standard Schnauzers
2 Westies
and 1 "little black dog"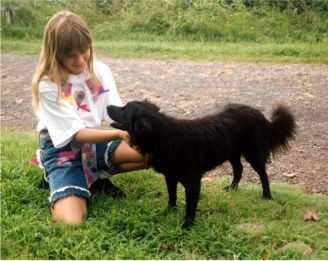 | | |
| --- | --- |
| | Ebony our "little black dog", with Jenny |
Ebony had been abandoned on the road before she came to live
with us about 12 years ago. She was actually wild, but she fell
in love with our Schnauzer. It took us quite a while to gain her trust,
but when she did come in the house, she ran straight upstairs and
jumped in our bed. She slept in our bedroom every night since then.

Our son, Ollie, was never, ever able to come in late at night
unannounced. She would positively make the welkin ring.
Then he would bend down and kiss her and she would go back
to sleep, having, once again, done her duty. When she was younger,
we would tell her "lickety-split" and she would run in a big circle
so fast you could hear the wind whipping between her legs.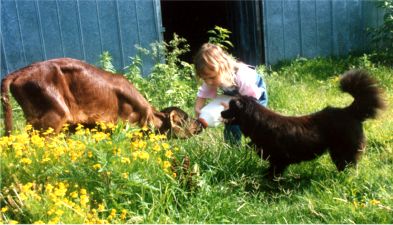 Here she is with granddaughter, Lyndsey, and Beau, a calf we had
to bottle feed. This was about as close to a "cow" as Ebony ever got.
But she greeted and threatened the very lives of every single vehicle that
drove up our driveway. When I couldn't sleep at night, I took her, a glass of milk and a book to another bedroom. She would hop up in the bed and pretty soon we would both be snoozing.

Our "little black dog" passed away Oct. 25, of cancer.



If there are no dogs in heaven, then when I die
I want to go where they went.
. . . Anonymous
Return to home page